Thank you for your interest in employment opportunities with Shelby American, Inc. To get started click "APPLY FOR THIS POSITION" from the following list.
You may only apply for each job title one time. Your application will be kept on file for 6 months.
---

Job Title: eCommerce Assistant
Description: Support the eBay department in building listings and supporting our Customer's online. Build our online presence with both new and used product. Collection of takeoff parts from our shop. Parts identification by application and ability to learn interchange. Photograph parts and build eBay listings using HTML programming format. Maintaining and relisting existing auctions. Pulling new stock and preparing items for shipment.
---

Job Title: General Employment
Description: You are welcome to apply for future openings in all our departments.
---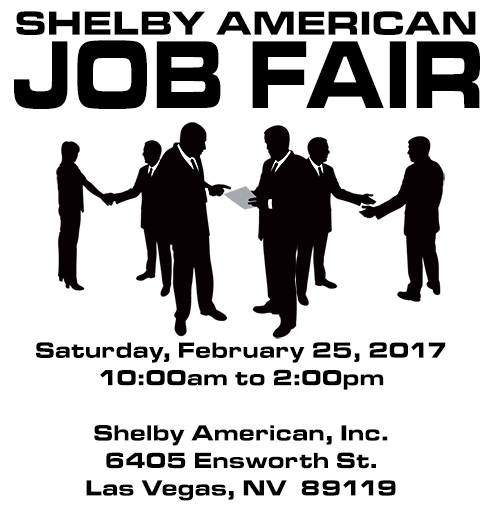 We are seeking motivated, quality candidates to apply in person at our first ever Job Fair! This event will be held at Shelby American World Headquarters on Saturday 2/25 from 10am to 2pm and we will only be accepting applications in person. Bring your resume. We will be filling the following positions:



Vehicle Production Technician
Buffer and Prep Technician
Quality Control Technician
Retail Store Associate (Part Time)
Event Coordinator (Part Time)
Digital Designer, Editor
Digital Designer, Photographer
Social Media Coordinator
Retail Warehouse Operations Associate
Warehouse Clerk and Runner
Facility Maintenance
---
NOTICE TO ALL APPLICANTS
Candidates for positions with Shelby American Inc. must be legally authorized to work in the United States. Verification of employment eligibility and a drug test will be required at the time of hire. We reserve the right to conduct a background check and drug screening as a contingency upon employment with Shelby American Inc. NOTE: Shelby American is an at-will employer.
We do not discriminate against qualified applicants based upon any protected group status, including but not limited to race, color, creed, religion, sex (except where it is a bona fide occupational qualification), national origin, ancestry, age, marital status, military or veteran status, sexual orientation, physical or mental disability or medical condition as defined by applicable equal opportunity laws.